Bevel gears manufacturer
When it comes to top-quality bevel gears, Grimonprez Transmission Gear stands out as a seasoned bevel gears manufacturer with a rich history of delivering precision-engineered solutions. Our commitment to excellence begins right in our factory in Dottignies, where each stage of the manufacturing process is meticulously carried out to ensure that you receive the finest bevel gears on the market.

As a leading bevel gears manufacturer, we take pride in offering our customers two distinct types of bevel gears to meet their diverse needs: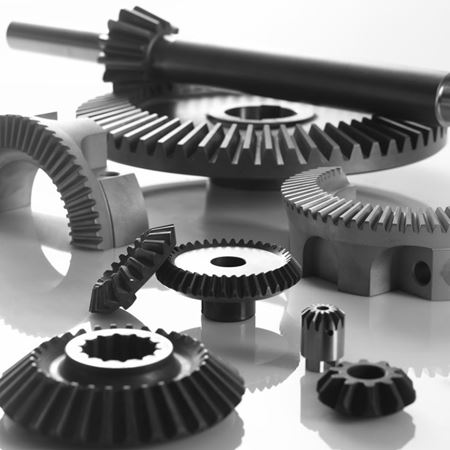 Straight Bevel Gears: These gears are a testament to our dedication to providing superior gear meshes. While it's our preference to deliver them as part of a set to ensure optimal performance, we also offer the option to purchase them individually. Our straight bevel gears are known for their precision and durability.
Spiral Bevel Gears: Grimonprez Transmission Gear exclusively employs the renowned GLEASON method in the production of spiral bevel gears, a mark of our commitment to engineering excellence. Although we primarily follow the GLEASON method, we are open to adaptation, allowing us to cater to your specific requirements with utmost flexibility.
At Grimonprez Transmission Gear, our core philosophy revolves around establishing fruitful partnerships with our valued customers. We aspire to be more than just a bevel gears manufacturer; we aim to be your trusted collaborator throughout your project's journey. Our unwavering dedication to serving you with the best of our skills and expertise is evident in our commitment to effective communication and continuous investments in cutting-edge production techniques.

When you choose Grimonprez Transmission Gear as your bevel gears manufacturer, you can expect not only top-tier products but also a reliable and attentive partner. We're here to support your unique needs and challenges, ensuring that you receive tailor-made solutions that align with your project goals.