From co-design to manufacturing
We support you at each stage of the manufacture of your transmission and gearbox components
Your partners since 1877,
The GRIMONPREZ GEARS & GEARBOXES companies provide you with their know-how and their production tools to produce your gears, transmissions and industrial gearboxes on a drawing or after study. They operate in the most demanding industrial sectors such as:

Aeronautics
Defense & armament
Energy
Construction and mining equipment
Motor racing
Agricultural machinery
Lifting industry

Present in 3 countries and equipped with two production sites, in Belgium and France, the GRIMONPREZ GEARS & GEARBOXES companies are your ideal partner for all your prototype and small or medium series manufacturing projects, in a fully integrated manner.

Your satisfaction is part of our first commitment. We are at your disposal and we offer effective solutions that meet your needs.
Sectors
Having made the quality of your products our priority, allows us to be the partner of the most demanding sectors of activity on the market
3 GRIMONPREZ COMPANIES
To best meet your technical and local needs
Specialized in the manufacture of all types of gears (spur gears, helical gears, straight bevel gears, etc.) and in the manufacture of transmission elements in small and medium series.
GRIMONPREZ TRANSMISSION GEARS is based in Belgium.
Discover GRIMONPREZ TRANSMISSION GEARS
Specialized in the manufacture of complex gears and gearboxes for industries meeting EN9100 standards and in small and medium series manufacturing.
GRIMONPREZ PRODUCTION GEARS is based in France.
Discover GRIMONPREZ PRODUCTION GEARS
Design office that draws up the manufacturing plans for your projects for perfect production.
GRIMONPREZ TRANSMISSION GEARS is based in India.
Discover GRIMONPREZ ENGINEERING GEARS
SUB-ALLIANCE
4 divisions, 4 complementary expertises dedicated to your projects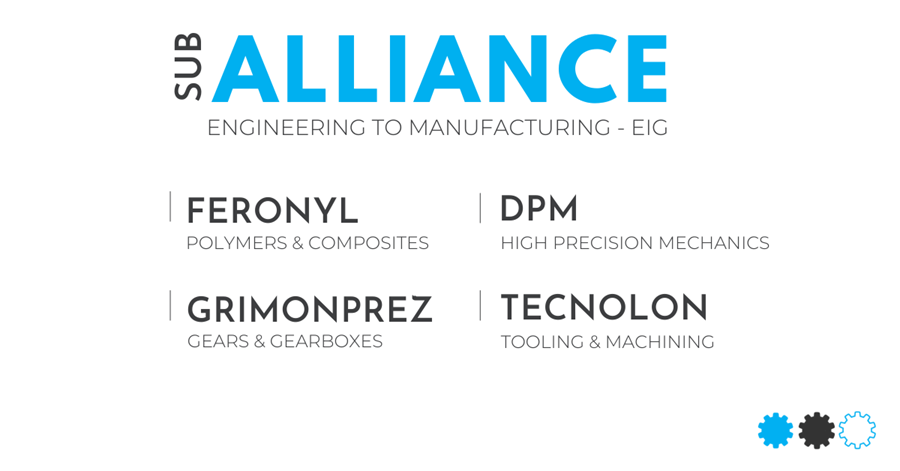 Members of SUB-ALLIANCE
GRIMONPREZ TRANSMISSION GEARS, GRIMONPREZ PRODUCTION GEARS, GRIMONPREZ ENGINEERING GEARS are members of SUB-ALLIANCE since 2012.
SUB-ALLIANCE is an economic interest group of 4 manufacturing divisions dedicated to the engineering and manufacture of technical parts with high added value in polymer, composite and metal.